Many company leaders across industries that have embarked on the RPA journey report difficulties to fully meet the initial expectations. While automating first few processes is simple and delivers fast results, the scaling-up and wider rollout of the automation across the organisation might become challenging if the right foundations haven't been setup from the beginning.
At Automation CoE we have defined 9 practices across the RPA framework (Exhibit 1) that can help set the right direction to your RPA program.
Exhibit 1: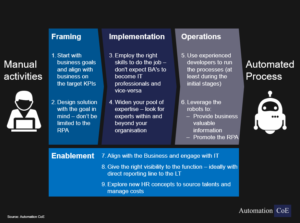 If you are looking to improve the value of your RPA initiative feel to contact us using the Request Callback Form at the top right of this page or send us an email to peter.ilgo@automationcoe.eu.